Installers: sell more solar
Use ezSolarLoan to offer easy financing to customers.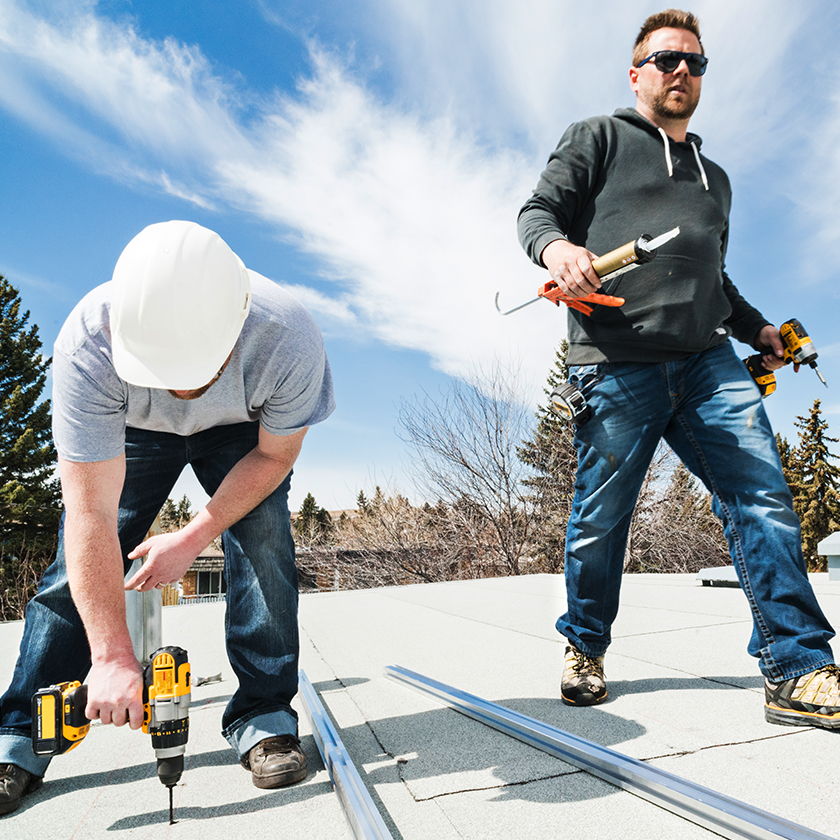 Open Office Hours with ezSolarLoan
Twice weekly, Kaylyn and Ramsey hold ezSolarLoan Open Office Hours: Tuesdays at 10 AM (Pacific time) and Thursdays at 1 PM (Pacific time). If you'd like to ask questions, learn more about the upcoming new system, or introduce your team, please drop in!
Get Link for Open Office Hours
Onboarding with ezSolarLoan
All ezSolarLoan applications must be accompanied by a valid 4-digit Solar Company Identifier (SCI) code. To learn more about offering ezSolarLoan financing to your customers and how your company can apply for an SCI code, click the button below.
Onboarding
Download Resources
Share Sales & Marketing Materials with customers, and download Training Materials for team members
Resources
Grow your business. Please your customers. No dealer fees.
Work with us to provide superior solar financing for your customers.
No dealer fees

No cutting into your margin or raising prices to cover lender fees

Fast, easy process

Simple application with instant approvals

Electronic payments

Via ACH deposit direct to your account

Progress/stage payments

On your desired payment schedule
And there's more ...
When you direct your customers to finance through Community 1st Credit Union, you're supporting a member-owned cooperative and not-for-profit institution.
Ethics like yours
We're passionate about solar energy just like you, which is why we've been a leader in residential solar financing since 2012. When your customers finance through us, you help make more funds available to fund more solar installs and support a non-profit that gives back to the community.
Superior service
Exceeding you and your customers' expectations is our #1 priority. Find financing solutions that match the needs of your business, not the other way around.
The team at Community 1st really makes financing easy and quick for my customers. I sell more solar because these guys really know their business.

— Kirk H, Owner of South Sound Solar
Compare loan options
Best for borrowers who want to:

Best for borrowers who want to:

APR

Term

Instant Approvals

Min and Max Loan Amounts
Best for borrowers who want to:

Save energy with Solar, HVAC, and efficiency upgrades

As low as 4.49%

5, 7, or 10 years

Up to $50k

No Min up to $100k
Fixed-Rate Term Solar Loan
Best for borrowers who want to:

Lock in a low rate and make fixed monthly payments

As low as 5.49%

12, 15, or 20 years

Up to $50k

$10k to $100k
Best for borrowers who want to:

Start with the lowest monthly payment available in the industry

Initial 7-year fixed rate as low as 5.24%

21 years

Up to $50k

$10k to $100k
See our rates
Learn more about each of our loan options and see detailed rates information.
Energy Improvement Loans finance qualifying energy efficiency projects such as HVAC (heating, ventilating and air conditioning) systems, solar energy systems and windows.  If combined with qualifying equipment, you can apply up to 50% of the cost to energy efficiency performance upgrades such as insulation, air sealing and duct sealing.
Energy Improvement Loan
| Term | APR as low as |
| --- | --- |
| 5 years | 4.49% |
| 7 years | 4.74% |
| 10 years | 5.24% |
With today's low interest rates, your customers can save even more money as their system creates clean energy! Our 12-year rates start at 5.49%, 15-year rates start at 5.74% and 20-year rates at 6.24% for best qualified borrowers.
Fixed-Rate Solar Term Loans
| Term | APR as low as |
| --- | --- |
| 12 years | 5.49% |
| 15 years | 5.74% |
| 20 years | 6.24% |
Your customer just hit the Jackpot with the longest loan term available in the industry. That means lower monthly payments.
The 21-year "Solar Jackpot Loan" is a variable rate loan that has three 7-year periods back to back to back, so customers get the lowest rates and lowest monthly payments available. A 21-year loan is divided into three 7-year fixed periods, with a fixed interest rate for each period.
When the rate resets at the start of the second 7-year period, it adjusts according to the then-current 7-year US Constant Maturity Treasury (CMT) index plus a margin. It resets again for the final 7-year period. To make sure payments remain low, each adjustment can increase by no more than 2.5% from the previous rate.
Get Started Today
Sales & Marketing Tools as well as Training Materials
Resources
Disclosures
ezSolarLoan/Community 1st Credit Union (C1CU) and third parties, including installers, are independent entities, and not agents, representatives, or legal partners of each other. No relationship exists to create any association, franchise, agency, partnership, joint venture, employment or other special relationship between these entities. No third party is granted any express or implied right to enter into any agreement of any kind for or on behalf of, incur any obligation or liability of, or other otherwise bind, C1CU or any third party.
Loans are subject to credit approval. Rates are based on borrower's credit score, loan term, and loan program. All programs subject to change without notice.